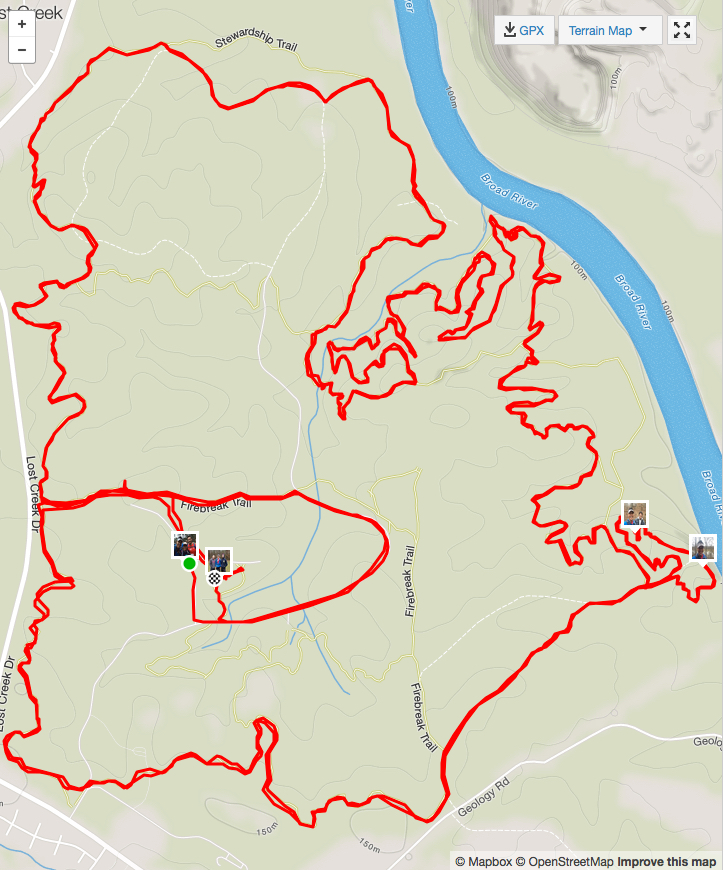 Gear & Shoes: HOKA One One Stinson ATR, Camelbak Charger Hydration Pak
Conditions: Overcast, Mid 40s, Rain later in the afternoon.
My first race for 2016 was my first half marathon, full marathon, and ultra marathon combined. I guess go big or stay home. I ran several 5Ks, a 10K, the Blue Ridge Relay and a few Spartan races the whole of 2015 so I felt I had been in an ongoing training. The longest distance I have raced at this point was a Spartan Beast for 11+ miles and I have done a marathon ruck (26.2 miles) so I figured if I can't run I can always walk and finish the race. Quitting was not an excuse or an option going into this race. Through the convincing and support from some of my F3 and FiA buddies, I decided to sign up the week prior to the race. I was on the standby list and not expecting to get called up but got the email that I was in. Oh Crap, now I have to run a 50K in 2 weeks! To say I was freaking out was putting it mildly. Many of my F3 buddies were surprised to hear the news that I was a last minute sign up for the 50K and got a lot of support for it. If not for the F3 workouts, my workout buddies and their support I would not have had the motivation to sign up for this race on my own.
Race Day: Start time was 7:30am so I got to Harbison at 6:30am to get a decent parking spot and to get my nerves settled. Enough stress going into the race without having the extra stress of getting there late, finding a parking spot, bathroom rituals, and getting my kit together for the race. I met up with some of my F3 racers, the real runners, and met some new F3 pax from some other parts of the state and Columbia. Doing a race like this is better with friends. We wished each other a good race and we were off. The first 2-3 miles I felt pretty good, on mile 3 my right foot became numb, so I had to loosen my laces a few times to get my circulation. This went on for 1-2 miles before I started feeling my toes. It worried me at first because I needed some feeling of my feet for the more technical trails coming up. Overall the first 15 miles, I was making decent time. I was doing an average of 12-13 minute pace. Felt good in the technical trails of Spiderwoman and the Bluffs. I met up with another F3 buddy, Pajanimal, at one of the aid stations. Always a morale booster to see a friendly face during a race. After the technical part, I knew the trails were more forgiving but still a challenge to get back to the half way point.
Coming into the halfway station, saw my fellow F3, No Help going back into the race. I gave him a shout of encouragement and checked into the Half Way Station. I made good time at 3 hours 13 minutes time for the first half. My goal was to finish between 6 hours 30-40 minutes. I found a spot on to sit down to change my socks, mole skins on my hot spots. Those moles skins saved my feet from some unwanted blisters. After some long distance runs and rucks, I knew my feet start breaking down after 10 miles. I prepped several pre cut mole skins for the affected areas. A FiA, Liberty Turtle, was a great help at the aid station by bringing me some food while I attended to my feet. I again say it was a morale booster to see a friend at the aid station.
Left the aid station at a slower pace but still felt good. Ready for my second loop. I even sent a few Periscope videos during the run. Between mile 22-23, my right leg felt a shooting pain on my IT band. Every time I went down hill the pain would be intense. I was again at Spiderwoman, the most technical part of the trail with lots of rocks and roots. This was the hardest part of the race for me. I knew I can only run on the flats and walk on the uphills and down hills which slowed my pace down to 16-18 minute miles. It was frustrating to know I was not going to make my goal time. The last 7 miles of the race consisted of walking and shuffling. I was getting passed by a few folks which made me more upset. I rallied myself and reset my goals to finish this race no matter the time and cost. To finish was my ultimate goal. A humbling learning experience. On the last half mile, I decided to run the rest of the race despite the pain. My run was a hobble but I was determined to finish the race with all that I had at that moment. I finished 105th out of 140 with a time of 7 hours 41 minutes. I was met with my F3 buddies that came to greet us at the end and also my fellow racers. I was so happy to finish my first UltraMarathon. The timing could not get any better because it started to rain. The experience was fantastic with its highs and lows. My right leg needed a few days to recoup but is now a lot better. I am know looking for my next Ultra to do. Finishing this race truly opened by mind on what my body can accomplish. I want to thank all of my F3 pax that raced and supported me with their words of encouragement, my family for allowing me the time to do the crazy things I do, and the race coordinators and aid station volunteers that made it a great first Ultra Race for me. I look forward to next year and to another awesome event!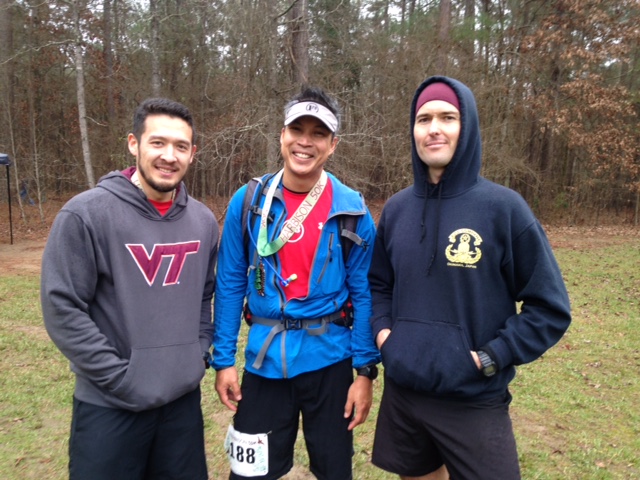 With my F3 pax finishers. No Help/Matt Netzel and ACME/Cliff Lucker
See the Homes for Sale nearby Harbison Forest and the Irmo area.
Great trails in Harbison Forest to get back into nature. Trails for all different levels and for the family. Bikes welcome on most trails. Pets on a leash of course. Check out the trails if you get a chance. Very convenient to Harbison and I-26. Close by Dutch Fork High School. Parking is $5 or get an annual pass for $25. Proceeds help maintain the park. Well worth it. Check their website for more information. Check website or Facebook page if you plan to visit after a rain. The trails maybe closed due to wet conditions. Website Harbison State Forest
Looking for a FREE workout with some great guys. Check out F3. Find out more about F3 and the Lake Murray locations, times, workouts, run groups at F3Nation.com
F3 — our three Fs stand for Fitness, Fellowship and Faith — traces its roots to a free, participant-led boot camp workout held on Saturday mornings at a Charlotte, N.C., park since 2006. Our mission is to plant, grow and serve small workout groups for men for the invigoration of male community leadership.
Lexington SC Real Estate

– Nelson Bermas, REALTOR®, F3 Dunphy, GORUCK, Spartan, Workout Nut


Your Specialist in

Lexington South Carolina

for all your Real Estate Needs. Serving the

Lake Murray

,

Lexington

,

Irmo

, and West Columbia SC real estate area. Search all MLS Properties in the area or call me direct at (803) 414-5677. EXIT Real Estate Consultants.