Welcome 2016 to new challenges! 2015 was filled with races, events, and other crazy adventures. I have to decided to combine my workout journal with some real estate information. Lexington and the Columbia area is a very active community. I have been doing a lot of running in the area and finding that I am finding new parts of town I would not have noticed if not for running. I am still in denial phase of calling myself, "Not a Runner".
The Workout : 6.5 mile run in Harbison Forest in preparation for Harbison 50K this Saturday. You can still sign up if you are interested. Check out their Facebook page for more information. Harbison 50K Ultramarathon
Gear: Salamon Speed Cross, Compression Pants, Eddie Bauer Jacket, Merino Mock Layer, F3 Mudgear hat, CamelBack Charge.
See my route on STRAVA.
Conditions: Cold mid 30s. Dry. Frozen Ground.
The run started out cold, very cold but eventually warmed up after the first mile. I was wearing the Speed Cross for more traction since did not know how icy the conditions were and also to get some mileage on them. I normally wear them for Spartan Races so am comfortable in them for short distances. I normally wear the Hokas Stinsons and plan to wear them for the race. Sacrificing traction for some comfort for the longer race. My gear performed well today considering the freezing conditions. Glad I had the F3 Mudgear beanie today, since I had the GORUCK Merino hat the other day. The GORUCK Merino beanie keeps you warm and dries fast but does not stop the wind from freezing your ears. The Eddie Bauer Sandstone hooded jacket is my now go to jacket for all my outdoor workouts. Flexible outdoor shell, dries quickly, and really like the snug hood that keeps the rain and wind of my neck.
The trails were dry except for some low areas where bike tires have created some muddy spots but overall was very good. The most technical part was the Bluff Trails. Nice drops and decent climbs. Narrow ridge trail facing the Broad River really kept my attention. Need to pay attention on footing especially in that area. It was short but technical and a lot more fun than Spiderwoman in my opinion. The rest of the trails were the Midland Mountain and Firebreak trails which I am more familiar with and the more common trails used by the general public.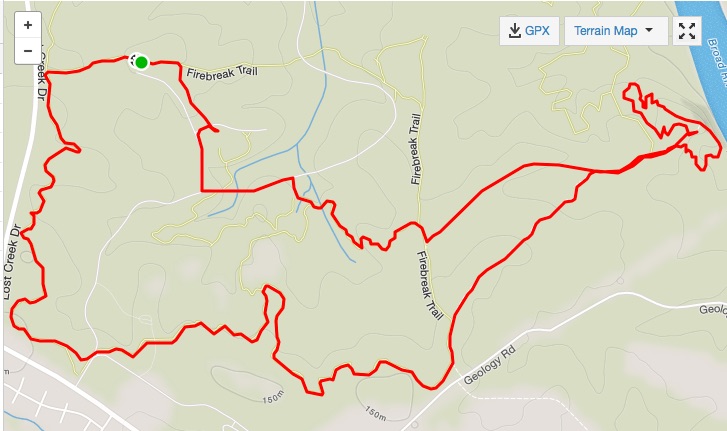 Great trails in Harbison Forest to get back into nature. Trails for all different levels and for the family. Bikes welcome on most trails. Pets on a leash of course. Check out the trails if you get a chance. Very convenient to Harbison and I-26. Close by Dutch Fork High School. Parking is $5 or get an annual pass for $25. Proceeds help maintain the park. Well worth it. Check their website for more information. Check website or Facebook page if you plan to visit after a rain. The trails maybe closed due to wet conditions. Website Harbison State Forest
See the Homes for Sale nearby Harbison Forest and the Irmo area.
Looking for a FREE workout with some great guys. Check out F3. Find out more about F3 and the Lake Murray locations, times, workouts, run groups at F3Nation.com
F3 — our three Fs stand for Fitness, Fellowship and Faith — traces its roots to a free, participant-led boot camp workout held on Saturday mornings at a Charlotte, N.C., park since 2006. Our mission is to plant, grow and serve small workout groups for men for the invigoration of male community leadership.
Lexington SC Real Estate

– Nelson Bermas, REALTOR®, F3 Dunphy, GORUCK, Spartan, Workout Nut


Your Specialist in

Lexington South Carolina

for all your Real Estate Needs. Serving the

Lake Murray

,

Lexington

,

Irmo

, and West Columbia SC real estate area. Search all MLS Properties in the area or call me direct at (803) 414-5677. EXIT Real Estate Consultants.